Ellie Shakiba is an artist and journalist from Ahwaz.  She continued to practice her art work and journalism while imprisoned on Nauru for 5+ years.  Ellie is now in the United States.  Please visit her website at https://www.ellieshakiba.com/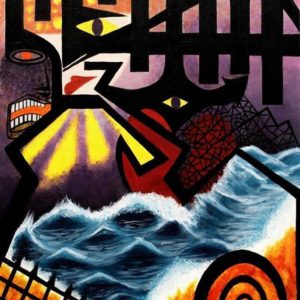 "I am a recently arrived Iranian refugee to the U.S. with six years' experience working for a major television station in Ahwaz, Iran. My experiences there lead me to flee Iran and seek asylum in Australia. I spent more than five years inside the "Offshore Processing" system of Australia on the island of Nauru. During this time I produced a great deal of journalism, many of my stories, video and photography was used my media outlets all over the world. I was credited with playing a major role in ending the illegal detention of children in Nauru through my media activities, documentaries and reports. I assisted to expose the corruption within the government and private sectors operating in country Nauru itself."
An excerpt from Ellie's Artist Biography:
"In 2019 after six years of illegal imprisonment in Australian offshore refugee detention center, I arrived America as a refugee. Australia, keen to claim that they stopped the boats, made a deal with President Obama and sent us to the USA, who accepted us as genuine refugees and gave us our freedom. However, many refugees still remain in Nauru and the fight to free them continues.
During these dark times, my art is what kept me even. My passion for the arts was first kindled by the repression and injustice I experienced under the Iranian government, little did I know that the Australian government would pour fuel on my artistic fire. In my desperation to escape the repression of the Iranian regime, I ran straight into the hatred and injustice of the Australian government. This ironic tragedy that I lived and witnessed for so many other refugees, is the main influence on my artistic style and subject matter.
My previous studies in architecture has been my other major artistic influence. I look at art in geometric forms, with volume, colors and visual elements harmoniously combined. My inspiration comes from my favorite style Cubism and complimented by expressionism, abstract and modern art.
My art is the visual expression of the words in my poems, so my paintings are my poetry as well. I tell poems through shapes, colors and sometimes the silence of empty space".
Please see Ellie's website for more: https://www.ellieshakiba.com/