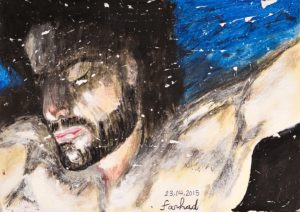 'This is me'
From the Melbourne Artists for Asylum Seekers (MAFA) website:
'I have worked as a guitar maker prior to seeking asylum from Australia in 2013. I have been imprisoned in the Australian off shore detention prison camp on Manus Island in Papua New Guinea for nearly 4 years.
I practiced art for a very short period of time when younger with no formal training and took it up again whilst on Manus Island.
My work is multidisciplinary using a range of mediums including painting, working with stones and gems, drawing and now graphic art. I am also a musician, singer and poet.
Kurdish people have suffered greatly through genocide, displacement and persecution. They still struggle today for independence, for country and freedom. They are not permitted to speak their own language, are stateless and cannot practice culture, music, art or dance' – Farhad Bandesh
Facebook Page: Farhad Bandesh Art
Sales/Enquiries: Jenell Quinsee
Mobile: 0403 740 520
Please support artists through MAFA https://artistsforasylumseekers.org/artists/
Following is an article about Farhad's solo exhibition titled THE BIG EXHALE held at blak dot gallery in Melbourne where the amazing new music video for the song, written by Jenell Quinsee and Farhad Bandesh, was launched.  Music video by Wendyhouse films.  Voice and music by Farhad Bandesh with Wantok music.
"For me there is my physical self. But there is also an inner self, an inner journey of creativity with fragments of beauty. The inner journey means I can survive the outer journey. Without it, I would not be here."
https://www.sbs.com.au/yourlanguage/kurdish/en/article/2019/04/10/kurdish-artist-manus-detainee-exhibits-his-art-melbourne