WRITING THROUGH FENCES IS EXCITED TO LAUNCH THIS BEAUTIFUL BOOK OF POETRY AND ART
'THE STRONG SUNFLOWER'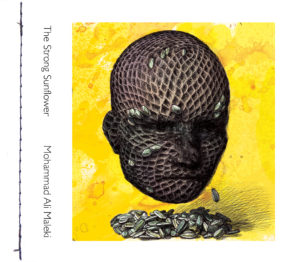 click here to buy this beautiful book
"The Strong Sunflower" is a profound example of the human impulse for persistence, creativity and empathy. Ten visual artists respond with generous and vivid images which bring Mohammad Ali Maleki's insightful and moving poem into sharp focus. This is a short book with deep roots, to be cherished and sown widely. (Andy Jackson, Poet)
Mohammad Ali Maleki is a poet originally from Iran. He has been writing from within Australia's prison camp in Manus Province, Papua New Guinea, over the past two years. Mansour Shoshtari, also exiled to Manus, works closely with Mohammad to translate his work from Farsi to English. Mohammad's poems have been published in Verity La., Blue Pepper, Rochford Street Review and was shortlisted for the Red Room Company's New Shoots Poetry Prize 2016. His poems were performed in Writing Through Fences' bilingual show Through The Moon at the 2017 Queensland Poetry Festival. A chapbook of his work titled Truth in the Cage (ed. Michelle Seminara), is to be released later in 2018.
Mohammad previously worked as a tailor and film/theatre set builder. In Manus prison he built a garden and much of his writing has grown with the life-sustaining practice of gardening. The Strong Sunflower was one of the first pieces that Mohammad wrote. It was sent to Rose Ertler, and visual artists were invited to respond to Mohammad's poem.
The artists who contributed to this book are: Iqbal Asadi, Michael Camilleri, First Dog on the Moon, Miream Salameh, Mars Drum, Rachael Wenona Guy, Eaten Fish, Mandy Ord, Mahmoud Salameh and Mohammad Ali Maleki himself.
The book has been stitched to reference Mohammad's work as a tailor by Cathy Parry (Industrial Sewing Workshop, Castlemaine).
This version of The Strong Sunflower was translated by Moones Mansoubi and is published by Writing Through Fences with funding support from the Awesome Foundation.
The Strong Sunflower speaks to ambiguous relationships between those Australia has exiled to Manus, Manusians and the land itself, creating a tentative thread between all these. Mohammad and Mansour took the book itself to the local school in Lorengau on Manus Island sharing it with the children. Thank you to the children and staff of Lorengau Primary School for permission to use the video (below). The video was taken by Mansour Shoshtari. The teachers involved with reading The Strong Sunflower are: Nieteng and Posenauna.
Mansour writes: Thank you to the teachers and students for their work with this project. The teachers are very kind people and the students are intelligent too. We have found PNG people are very kind, lovely and friendly people.