ALMOST BEYOND WORDS
Art work by j.luan Dancing Brush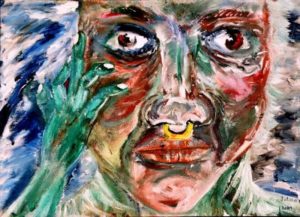 https://www.facebook.com/jluan-Dancing-Brush-1179659528721773/
Visit the above site to support this expressive artist.
FROM Farhad Bandesh and Jenell Quinsee
The Big Exhale is about the need to be free, free from cages, free from fences. It is about the need to breathe in and exhale deeply, with the relief of freedom – to be yourself. It is about the heartbreak for the lack of humanity, for the cruelty inflicted on people simply trying to be safe and live a life in peace – Farhad Bandesh and Jenell Quinsee
https://vimeo.com/334839458?fbclid=IwAR0gCcd6KRqBpCL8M9KHs3IPljV36B5GyJqlNN7ltMsDRRAxMhkCiIaxfX8
HOME
no one leaves home unless home chases you
fire under feet
hot blood in your belly
it's not something you ever thought of doing
until the blade burnt threats into
your neck
and even then you carried the anthem under
your breath
only tearing up your passport in an airport toilets
sobbing as each mouthful of paper
made it clear that you wouldn't be going back.
you have to understand,
that no one puts their children in a boat
unless the water is safer than the land
no one burns their palms
under trains
beneath carriages
no one spends days and nights in the stomach of a truck
feeding on newspaper unless the miles travelled
means something more than journey.
no one crawls under fences
no one wants to be beaten
pitied
no one chooses refugee camps
or strip searches where your
body is left aching
or prison,
because prison is safer
than a city of fire
and one prison guard
in the night
is better than a truckload
of men who look like your father
no one could take it
no one could stomach it
no one skin would be tough enough
excerpt from Warsan Shire posted by Ali Camfrog 23 May 2019
See Ali's group at https://www.facebook.com/groups/2126377520969211/
FROM Imran Mohammed
My heart is sickened and broken. I can't even imagine what my fellow refugee brothers and sisters are going through as yesterday, Australia's election result erased any hope they held and they are shattered. All we asked for is safety and freedom so that we can contribute to this world.
To those who did nothing to stop the imprisonment of refugees and asylum seekers indefinitely, instead saying it is ok, I pray one day you will overcome your fear.
Imran Mohammed May 20 2019
FROM Associate Professor Behrouz Boochani

If I were to use one phrase to describe the situation in the Manus prison camps it is this: this prison is quite frankly a graveyard.
A graveyard
A graveyard
Total silence
Total silence
Behrouz Boochani May 20 2019
SUCH A HUMAN

People on Nauru are disappointed, hopeless and frustrated.  Many of you never understand the situation over there but support them as much as you can without distinction between them and Manus. They are physically and mentally collapsed.
FROM Erfan Dana
Brothers and sisters all around Indonesia please don't take any rush decision at least for one month.
I believe good days are ahead of us to come.
It's not easy but it's absolutely logical and beneficial to think positive and believe in our friends all over the world working so hard for us to find a way to get us all to safety.
Our time to have a normal life will come.
Focuse on your daily routines.
Be active.
Read a book.
Do some physical activities.
Draw something.
Write your pain down into your notebook.
These are all the good and best things we can do to escape from negativity and anxiety.
REMAIN
Hoda Afshar's work REMAIN will be showing at the Ian Potter Gallery in Melbourne this Saturday the 25th of May 2019.
On her website Hoda writes that 'REMAIN was made in collaboration with several of the men who still remain on Manus Island, PNG …' You can see some of the still on her site here: https://www.hodaafshar.com/remain-stills-from-the-video
To see REMAIN visit: https://art-museum.unimelb.edu.au/events/water-interdisciplinary-public-forum/?fbclid=IwAR3AuPGNJKjoZzRZQqzeinp9YPsUTjTwBKbBcVoGIOhCoEau6pfGjNFQ_qc