Welcome to our March 2018 blog (yes we have got it up a bit late!).
STRENGTH OF WOMEN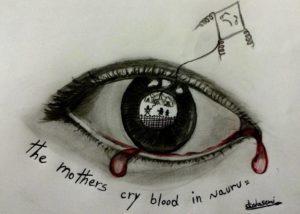 Here we are focusing on the work of two women, artist Miream Salameh and poet Hani Abdile.  You will find short videos of Miream and Hani's work, links to their websites, an interview with accompanying art work by Mieram and a written piece by Hani.
Miream Salameh
The following is taken from Miream Salameh's website: http://mireamssl.wixsite.com/mireamsalameh
Born in Homs, Syria
Lives in Melbourne, Australia since 2013
She is a Syrian Sculptor and Painter, She bears between the folds of her soul love to a homeland of deep-rooted civilisation ….to a homeland called the country of Jasmine… She was forced to leave it with just the words (I don't want to leave my mother's womb… and I don't want to die in it).
This attitude can be felt through all her artworks, which embodies women's freedom and the suffering of people being crucified for loving life and liberty.
Clay…wood…stone … and fingers made of music in labor sculpting the mirror of her depth.
 'It's illegal to decide someone's freedom—to put these people there with no charge, no reason, keeping them for years. It's destroying lives'. 
(Miream Salameh in https://broadly.vice.com/en_us/article/a3w5m8/people-are-dying-every-single-day-the-refugee-painting-syrias-pain)
Hani Abdile
Hani Abdile is a writer, spoken word poet and budding photographer from Somalia. She made her way to Australia by boat and was detained on Christmas Island. While detained, Hani found healing in writing poetry. She is an honorary member of PEN, co-facilitator of Writing Through Fences. Hani has received numerous awards for her community work and writing. Her first book 'I Will Rise' was published by Writing Through Fences in 2016 to critical acclaim.  You can purchase it from our shop on this website.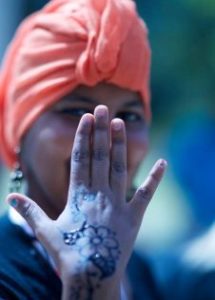 Visit Hani's website here :  https://abdilehani.wordpress.com/
Brush off the dust
Do we often forget to love ourselves and care for ourselves? Or is it that we get dispirited when other people say we can't do something?
For the past few years I have become a poetry addict and I have realized that I find love and joy within myself.  Even though most of the time I wrote to give a voice to people that struggle on a daily basis, I also wrote for my soul because my soul seeks unity and an acceptance of love within my body.
As a young woman, I had my own challenges; I know your story might have the same start but definitely a different ending. There were times I thought my new home, a home that is safe, would never come. On this journey I often try to understand why women, despite what part of the world we are born, find putting ourselves first hard to do and we bear the demeaning responsibilities. My eyes have seen so many abuses swept under the rug. This mixture of feelings results in a culture of threat, as these feelings get stronger they turn into anxiety, and we see ourselves as worthless because the past is haunting us.
But whenever that happens, you have to take a second and say: 'My past is a page of my history. The present is what I need to deal with and the future is yet to come'.  As Maya Angelou said, "there is no greater agony than bearing an untold story inside you". We all have that untold story that we conceal, we all have that untold story that takes us onto a dusty road, we all have that untold story that blurs our vision, and we all have that untold story with wounds that are yet to heal. But at the end of the day we just have to wake up and brush off the dust.
Personally, life has been bitter sweet for me. When these days of dizziness and confusion arrive I try to step out of it, be myself and keep writing because the more I write poetry and tell my story and the story of my sisters, I feel relief.  Take note and just tell yourself you are the foundation of power and only the sky is the limit.
As females in general, we sometimes forget to love ourselves, to cherish ourselves, to empower each other and say to ourselves "If Ellen DeGeneres can rise up from all the bullying then we can do it, If Oprah Winfrey didn't listen to her haters and doubters then we also can do it, if Maya Angelou didn't stop shooting out her words, we can too".
I often feel I find a voice and love for myself within poetry. Other powerful female poets around me might agree. I am not saying it's only poetry that brings love and happiness but anything you do, for work or a hobby, can bring that little sparkle of love towards you.
This is a poem that I thought would inspire the young women of the next generation:
Dear Self,
I know sometimes life sucks
It makes you down
But remember it's a test of your patience
You must know life is a session of lessons,
Which must be lived in to be understood.
Dear self
Please, please, please
Don't forget your inner quality
You're kind and hilarious
You are beautiful and unique
You are the best creation of God
You're worthy and made of self-motivation
You're the beginning of love and affection
You're precious and a diamond of two parents.
Dear self
You're an example of many amazing people
You have been a positive soul that gives hope to others
And when you feel pain you're allowed to cry loud
You can't be the person of the light all the time
Even though I know you're soft and smooth like the clouds
I want to take you out in the rain
So you can wash out all your failures
Because every success comes after you fail and pain.
Dear self
Think of it this way,
You now have a chance to be better everyday
You now have a chance to understand more about you
About people around you and the whole world
So be wise and highlight your mistakes
And those who pretty much take themselves too high.
Reject them and be true to yourself.
Dear self
I want be by your side through the excitement and desperation of life
I want to offer you a love as a fundamental act of self compassion
I want to offer you a lamp that will Light up your future.
Dear self
You're not that bad at all.
You're actually really good.
And I'm sorry if I ever made you look bad and weak.
Dear self
Look at your reflection in the mirror
Notice all the mistakes,
Smile and say,
This too shall pass.
After all you will remember you're my only darling self
And I will be always here for you.