POETRY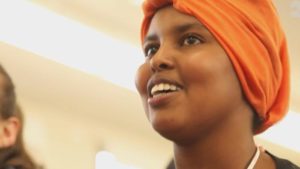 Hani Abdile is a writer and spoken word poet who fled the civil war in Somalia. She made her way to Australia and was detained on Christmas Island. Hani is an honorary member of PEN, and a lead writer for  Writing Through Fences.  Hani has received numerous awards for her community work and other achievements since being released from immigration detention. Her first book I Will Rise was published in 2016 to much acclaim and is available through the Writing Through Fences website shop. 
(photo by Rodney Decker)
Oooh old friends
My beloved friend
Many days
We laughed
We chased each other
We tickled
But that wasn't my favourite
We rolled in the mud
So thick, double to our skin
Danced in the rain
As we thought we could bless the land.
We re-owned our lost childhood
Your smiles fully healed my wounds
So shiny and sharp.
I was addicted to your company
I felt disgrace to leave you behind
But my friend you have chosen the traditional way.
Seeing your photos my perfect friend —
Life always takes unexpected turns
You dive into abuse and rise like a sun
Blessed to be a mother of two
My ship has sailed on unknown shores
While yours still floats on the garden of your birth.
Hani Abdile 2018
Boush Idris Mohammed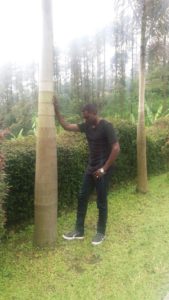 Boush is a writer from the the Zaghawa tribe in the Darfur region of Sudan from where he was forced to flee.  He is one of the most consistent members of Writing Through Fences, working actively within the group since 2013.  His love of story and writing has him hoping to become a teacher.  After years of being detained in Indonesia he was  granted Refugee Status by the UN but remains in limbo in Indonesia.  Boush is an avid reader and is learning guitar.  His work appears in the chapbook Our Beautiful Voices published by Writing Through Fences, on the Writing Through Fences website, was played on Refugee Radio 3CR and his piece 'Mama Africa' was part of the Through The Moon performance at the Queensland Poetry Festival 2017.
So many nights
Many nights I had with many fake dreams,
but still it's the new beginning;
Many schools we have with limited qualifications, 
but still the hardest is the school of life.
From the beginning I felt the test of my destiny
and from suffering I learned – 
discovering confidence and determination 
are always my clear destination.
– Boush 2018
Screaming
Screaming at my beloved country.
Screaming at the land where leaders are giving attention to their pockets rather than caring.
Screaming at the land where human tragedy is alive. 
Screaming at the land where governors love corruption rather than love their people.
Screaming at the land of broken tribes, of houses destroyed and economic collapse, where people are depressed and angry, where we pass each other with no greeting and if we do speak its just robotic communication. 
Screaming because we don't care who we are and we don't care where we are 
while we have all grown up from the same land, 
fed like twins from the same mother.
– Boush 2018
NEWS REPORT – INDONESIA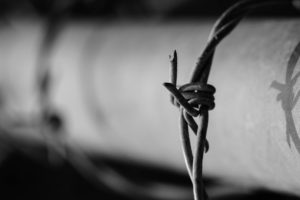 "Late report but necessary to read once"
It was 3am on the 1st of February 2018. As I wrote this report the sound of the cries from my cellmates rang in my ears.
The rain poured down and washed away my pain, the tears dropped from my eyes dripped onto my mobile keypad.
It has been fifteen consecutive days of protest in Balikpapan Prison camp, East Kalimantan, Indonesia now, we have been demanding freedom from incarceration and a safe and secure life. Now the refugees have decided to initiate their night-time protest.
The chronic pain of exile. Incarcerated for a period of four years. No real hope for ever achieving a peaceful life, no real hope in ever achieving a life without oppression; the refugees embarked on this journey purely because of their inner strength and stamina.
Minutes after they began their protest, after sounding their cries for freedom and their pleas for help, the head warden of the prison arrived together with a group of local police officers.
At this point everyone was calm and they raised their hands up in a show of submission. For some time the head warden of the prison camp hurled as much abuse and insults as he could muster up; he also threatened to press criminal charges and imprison the refugees in the local jails. This is what he told the refugees.
A few were so unbearably tired and felt so totally hopeless. They were completely shocked, their hearts had faltered and they felt they would never be free from this prison… they lost all control of themselves.
Two individuals collapsed for the first time ever and began to tremble. The refugees, who had no medical or first aid skills whatsoever, rushed over to keep the two of them stable lest they hurt themselves or anyone else.
The security guards watching the whole situation unfold not only did not help, they called the local police over and then closed the door and left the scene.
The situation continued like this for a period of time until more individuals began to suffer from heart pain and fainted from the shock. The whole thing was totally out of control. Everyone was screaming, and some were helping the fallen. Nineteen individuals in total had lost all hope and entered a state of shock. Among all this a small youth of fourteen years old also lost control, causing his older brother to enter a state of shock and panic for a short time. Actually, until a few months ago most of the people here were underage and had entered manhood while incarcerated.
The situation is now back under control. No one has any medical training, and there is no one else here to assist us. The immigration officers and IOM have left and gone to sleep in their comfortable beds. Total silence everywhere. Every now and then one of the people who collapsed would let out a yell and then weep. However, they have friends beside them to look after them; they hold down their arms and legs firmly so they do not hurt themselves or others.
It is unclear what will transpire tomorrow. I do not know the consequences of writing this report, I do not know if I will still be alive or not for exposing this. I do not know if I will be cuffed and taken to one of the local prisons, or if I will just remain here and continue to be a voice for the refugees and cry for help.
In any case, I have written this report for people to read and realise that we are still alive – do not let us be buried alive.
For more than a century we have been buried alive everyday and massacred. Tell me, is this civilisation and modernity, is this what you call support for human rights and the oppressed.
Just know that this situation is no different to the terrorist groups who make our lives a living hell and massacre us with bullets and blades.
When they kill us it happens once and our bodies are put to rest, but in here our very souls are dying everyday.
– Erfan Dana in Indonesia
Translated by Omid Tofighian, American University in Cairo/University of Sydney
FROM RISE
www.riserefugee.org
RISE Press Release Re-Invasion day aka "Australia Day" in 2018
We Refugees, Ex-detainees and Asylum seekers from RISE condemn any group or individual who claims to be pro-refugee but celebrates Invasion Day aka "Australia Day" on the 26th of January.
"We believe the systemic abuse of Aboriginal and Torres Strait Islander peoples is a result of over 200 years of discrimination as part of the white colonial genocide strategy that continues to this day and this template is now being used against our own refugee communities. How can we dismantle the white Australian government's refugee torture camps built within and outside its colonial borders without addressing the root cause of this criminal abuse?"
RISE founder and eX-detainee, Ramesh Fernandez "As survivors of occupation, rape, torture and oppression we should not undermine the struggle for survival that other oppressed community groups face. We should respect Aboriginal and Torres Strait Islander peoples and their sovereignty. It is not a day to poster yourself on a billboard, dance, sing or wrap a flag around yourself that represents occupation, colonisation and genocide of Aboriginal and Torres Strait Islander peoples in Australia".
As Refugees seeking protection and freedom on this land we acknowledge that we live in occupied territories where Aboriginal and Torres Strait Islander peoples are the traditional owners and where sovereignty has never been ceded. 'Always was, always will be Aboriginal land'.
Melbourne has a small community radio station and they have a show every Sunday at 10am called Refugee Radio.
We are able to play recordings of your poetry, music, stories, and anything you want! This is an exciting opportunity for people to hear your work if you would like this.
We already have some recordings of your work and can start playing them. You can also make new recordings and send them to me if you would like them played on radio. It does not have to be in English. If you wish to record in your own language please do!
If you cannot send me audio files we can read your poetry on the radio show instead.
I will contact some of you by message to get your consent to play your poetry and music. You do not have to use your name if you don't want to.
Also…if there is anyone who lives in the Melbourne community you are invited to produce the show and make it yours. You will receive full training about how to be a radio presenter. Wow wow wow!!!
You can contact Jenell on facebook or through the Writing Through Fences contact page or through our facebook page https://www.facebook.com/groups/135276877042748/
AND FINALLY SOME ART & AN INVITATION FOR YOU TO BE INVOLVED
We will add to our blog every week and upload a newsletter each month letting you know what we have been up to.
If you are writing, making art or music and are someone who has been forced to flee your homeland you can join us at Writing Through Fences, share your work and take part in projects.
If you are interested in helping us to continue our work please think about donating to one of our projects.  Go to the projects menu and you will see what it is we are up to.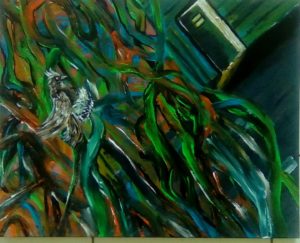 This is a recent art work by J.Luan – Dancing Brush titled 'Waiting Door'.