photos, remembering, mourning, art work, exhibitions, book launches, poetry:
Sunrise / Sunset
(Manus Island June 2018)
photographer Samad Abdul
Until when we will say RIP and forget it.
Until when we'll condemn and forget it.
Until when we'll express ourselves in words with sadness and forget it.
Until when?
Until when?
Until when?
Is there any one to get us out before it's too late.
#ANOTHER_BLACK_DAY
#MANUS
#NAURU
– Samad Abdul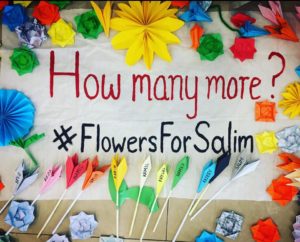 image from RRAN action. Photographer Michelle Bui
From MD Imran (facebook post June 9 2018)
We lost Salim because of the lack of proper treatment and negligence by the Australian government. His death, and many others who died on Manus, was preventable. Every single person on Manus as a worker or detainee was aware of Salim's serious health issues. I wish the Australian government had allowed him a sudden death instead of the agonisingly slow death he experienced. It is the 21st century and Australia is actually wasting its' taxpayers money like water to make human beings suffer to such an extent. Documentation has been made and history will record the Australian government's actions, what they made him endure and which eventually caused his death.
In the meantime, I would like to express my deep gratitude to all my brothers on Manus Island and every single Australian who showed their solidarity, expressed their condolences and stood up against this inhumane action. Although Salim is not among us anymore, he is still remembered and alive through many hearts. This is the human spirit and I thank everyone again for keeping this power alive.
REMEMBERING FARIBOURZ
and sending our love and sorryness to his family and friends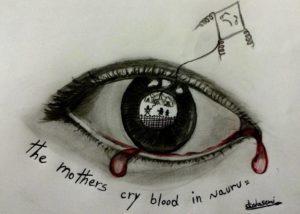 I didn't know Fariborz, yet every part of my body knows the system which has taken his precious life. The system the Australian government has designed for refugees and asylum seekers, has a kind of evil and devastating effect. It can ruin the very inner strength of human spirit. To the outsider, Fariborz took his own life, but the truth is the system took his life. There is no alternative explanation, and we must hold the Australian government accountable for this action.
The silence of his unimaginable suffering must have reached saturation point. It feels like it is Australia's ultimate goal to put every vulnerable refugee and asylum seeker into an inescapable corner. If the intensity of his suffering wasn't extreme, he would not have had the strength to say goodbye to his own life last Friday morning.
We have now lost seven lives from the hell of Manus and five from Nauru. All were full of life. I don't know how many more lives they want in the name of this policy.
Even though I am now safely in America, the experiences I suffered on Manus are always on my mind and bind me to Australia. I will use every opportunity to record the barbaric acts towards fragile refugees and asylum seekers.
ART EXHIBITIONS
BEAUTIFULLY SUFFERED
is an exhibition of art work by photographer 'Kaaveh Maleknia'.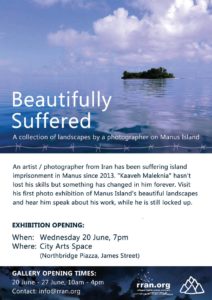 'An artist/photographer from Iran has been suffering island imprisonment in Manus since 2013.
"Recording the moment is a photographer's job. Here in Manus, we need some beautiful, transient distractions to help us tolerate continuous tortures…Those pictures are beautiful landscapes for you, but for me, they are just different corners of my prison."
"Kaaveh Maleknia" hasn't lost his skills but something has changed in him forever.  Visit his first photo exhibition of Manus Island's beautiful landscapes and hear him speak about his work, while he is locked up'.
Exhibition Opening: Wednesday 20 June 7pm @ City Arts Space, Northbridge Piazza, James Street, WA.
Contact: infor@rran.org
You can buy Kaaveh's work at https://society6.com/maleknia
NASIR MORADI's exhibition
See My Humanity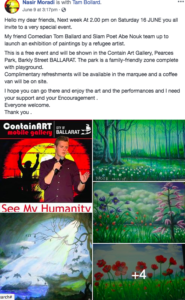 See My Humanity is an exhibition of paintings by Nasir Moradi.  Opened by Tom Ballard and Abe Nouk 2pm 16th June 2018.
It is a free event shown in the Contain Art Gallery, Pearces Park, Barkly Street, Ballarat, Victoria.
Nasir says: 'I hope you can go there and enjoy the art and the performances and I need your support and your encouragment. Everyone welcome. Thank you.'
From the MAFA artists:
GLOBAL CITIZENSHIP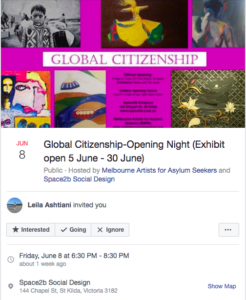 'Join us for our opening night and exhibition held as part of Refugee Week with Melbourne Artists for Asylum Seekers (MAFA) 
The exhibition is based on the idea that a person's identity transcends geographical and political borders and comes from the membership of a broader class called 'humanity'.
Everyone has rights and responsibilities as part of being a civic member of the world, beyond the citizenship to a specific nation. 
There will be an engaging talk with drinks and nibbles on the night.
Everyone is welcome so please invite family and friends to come along.
ARTISTS:
Leila Ashtiani
Maryam Sepasi
Sepideh Karimi
Zohreh Izadikia IG: @zohreh_kia
Azizeh Astaneh
Tadros Hanna FB: www.facebook.com/tadroshanna.art
The exhibition is open at Space2b Artspace from Tue 5 June to Fri 30 June so please drop in to view the exhibit during our open times. 
Tue-Fri 10am-5pm
Sat 10am-2pm 
http://artistsforasylumseekers.org/
http://space2b.com.au'
THE SAME MOON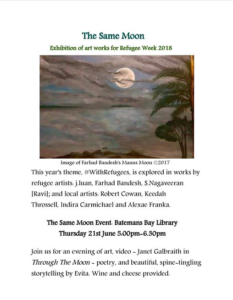 This year's theme, #WithRefugees, is explored in works by artists who are refugees: j.luan, Farhad Bandesh, S. Nagaveerab (Ravi) and local artists; Robert Cowan, Keedah Throssell, Indira Carmichael and Alexae Franka. With'Through the Moon',  a Writing Through Fences video, and story-telling by Evita.
Bateman's Bay Library
Thursday 21st June 5pm-6:30pm
POETRY
We will be free…
Our stolen time and freedom will be given to us again.
Our exhausted minds and hearts will be restored.
We will start re-building our shattered lives in freedom.
We will re-start living in the heart of beautiful, calm and clean nature without being surrounded with black, despicable high fences and closed metallic doors and sharp- barbed wires.
My heartfelt clear message to the rest of my brothers still detained in the corner of dark detention centres in Indonesia and across the world.
We will start flying in blue skies like free birds………. I promise,
We will outlive again.
Erfan Dana (Balikpapan Detention, Indonesia)
ART WORK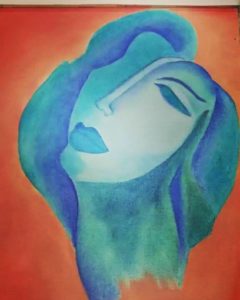 BOOK LAUNCHES
Hunter Asylum Advocacy held a launch of 'The Strong Sunflower – an Illustrated Poem' by Mohammad Ali Maleki in Newcastle, speaking with Mohammad and Mansour Shoshtari.  They also performed a recital of 'Freedom,Only Freedom' – from the freepoetry project a collaboration between Voices from the Human Dumping Grounds and Writing Through Fences.  You can find the pack for this recital on our website under freepoetry.
  The SAGA bookshop will also launch The Strong Sunflower in WA , 22nd June at 6:30pm, 2018, 203 South Terrace, Fremantle. #RRAN
remember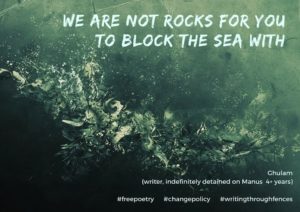 words by Ghulam
design Marziya Mohammadali
#freepoetry
you can download the Free Poetry pack at 
Freedom, Only Freedom: download poetry performance pack