JULY = N

A

I

D

O

C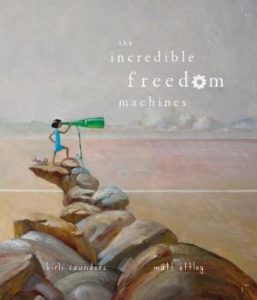 image taken from booktopia
Already we are in July.  It is NAIDOC week.  A week celebrating First Nations people of Australia. 
It is a time to remind those of us who are not of these First Nations people to always remember the land called Australia is, was and always will be Aboriginal land.   
This year there is a focus on women: 'Because of her we can'. 
To begin our July blog we are going to focus on the work of a Gunai woman who is a poet, educator, and writer:
Kirli Saunders
Kirli Saunders is a proud Gunai woman with ties to the Yuin, Gundungurra, Gadigal and Biripi people. Kirli is the Manager of Poetic Learning and Aboriginal Cultural Liaison at Red Room Poetry. She was awarded 'Worker of the Year 2017' at the NAIDOC awards in the Illawarra/ Shoalhaven region and has been nominated for a National NAIDOC award in 2018. Kirli founded the Poetry in First Languages project. Her first children's picture book The Incredible Freedom Machines, illustrated by Matt Ottley has been selected for Bologna Book Fair 2018. Her second picture book Our Dreaming will be released by Scholastic in July 2019, Happy Ever After will follow in February 2020. Kirli's poem 'A Dance of Hands' was Runner-up in the Nakata Brophy Prize. Her poetry manuscript, 'Mother, Earth Child, Lover' was Highly Commended in the 2018 Black&Write! prize. Kirli's poetry has been published by Cordite and is embedded in infrastructure as a permanent installation at the Royal Botanical Gardens, Melbourne. In 2018, Kirli will be Writer in Residence at Bundanon Trust, Q Station and The Literature Centre, Fremantle for 'The Sound of Picture Books'.  https://kirlisaunders.wordpress.com/
And a poem by Kirli Saunders published in Cordite May 2018: http://cordite.org.au/poetry/notheme7/disconnection/
Disconnection
Little one,
I see you mouth empty spaces,
for a mother's words to fill
and stretch your ears
for the stories and their voices.
I watch your
trembling limbs
ache to shake
in dance
and hear your lungs
as they gasp with songs unknown.
I feel your
body sans
spirit,
ceremony
and secret
and know that
it has been grown
without roots –
away from the earth that cradled you
and I taste the hunger
you do
to know the parts of yourself,
to feel at home
when your
dreaming has been taken.
Kirli Saunders, Cordite, May, 2018
Happenings
It has been a time of many happenings.  There has been a lot of sorrow.  There has been some who have found hope in going to the US. One of our long terms members has married. There have been a new publication in the Australian Independent Media Network by Samad Abdul who interviews Obeida on Manus Island, and an article written from detention in Indonesia by Asif Rahimi, Walk with me, then talk about me, which will soon be published in Overland. Mohammad Ali Maleki's new chapbook "Truth in the cage' has been released, Juan Garrido Salgado has sent in a poem for Selim, Behrouz Boochani's 'No Friend but the Mountains: Writing from Manus Prison' will be launched in Sydney and Perth in early August and in Melbourne in early September.  MAFA's exhibition 'Global Citizenship' was held in Space@b in Melbourne with wonderful art work by various artists with women strongly represented. 
New Project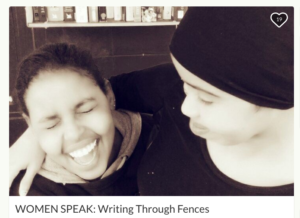 Our Women Speak: Writing Through Fences project, an anthology of writing and art work by women associated with Writing Through Fences is almost ready for printing and we are asking for help with funds for this. 
https://www.gofundme.com/women-write-writing-through-fences?member=352578
WE DON'T FEEL FOR ONE MINUTE WE ARE FREE 
Samad is a writer from Pakistan and an administrator of Writing Through Fences.  Obeida is an auto-mechanic from Syria.  Samad speaks with Obeida about life in Australia's immigration prison camps on Manus Island as the only remaining Syrian.
This interview was conducted in April 2018 in the East Lorengau Prison Camp on Manus Island.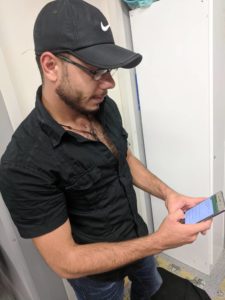 Samad: Thank you so much Obeida for your time and to be here. I saw your interview which you gave to Janet in 2015 (see link to this interview).  I saw that and I read it and it is very painful and I am very sorry for that so my best wishes will be with you.
Living in the new prison camps:
Obeida my friend, first of all I would like to ask you how are you feeling and how is the new accommodation?
Obeida:  Here no-one gives me help because I'm alone here.  Even I asked for help from the security or from anyone here but they didn't help.  First they put me with someone with mental problem.  That person tried to set fire to the room when I was asleep.  You know, after that I leave the room and no-one give me help.  This is what I feel:  I feel alone here.
Samad:  So you don't have any room here?
Obeida:  For now I have a room but not forever.        
Samad:  Ah it is just temporary room.
Obeida:  Yes it is just for now.
Being Syrian in Manus:
Samad:  So you said you are the only Syrian here and as you are only one person here you don't have any appearance from your community here.  How do you feel to be alone like this?
Obeida:  When you feel alone you cannot do anything.  You be with yourself just thinking.  Thinking about your family and what they do in Syria.  My family's still in Syria. Always there. Thinking. Just thinking.
Last 24 days on Lombrum:
Samad:  So I will ask about the 24 days when Australia left us without food, without water, without support and they just left us alone in Lombrum.  It was horrible days. It was really horrible days and we are still suffering that pain.  Can you describe how do you feel about that, and how did you survive that, and do you have suffering that comes from that?
Obeida:  You know the Australian government  they tried to kill us at that time but they put PNG as the face – little man do whatever they want.   PNG they tried to kill us but in the end the media went out. We remained strong at that time and we showed all the world all the pain that Australia does to us.  I was feeling not safe because we don't have parents, we don't have food, we don't have water.  We tried to contain the rain water and we drink it.  Very hard days.
Samad:  Yeah, it was very hard days.
Obeida:  Yeah.  We don't have this stuff.  Maybe the animals will eat us at that time.  Really.  They did try to kill us.
Australia and the situation for people in and from Syria:
Samad:  I want to ask you about, you know … the world knows that Syria is now a war zone and a couple of countries are accepting refugees from Syria, including Australia.  I saw in the news that 12,000 people will be accepted by Australian government, whether they are really accepted or not I don't know!
Obeida:  Yeah, I never believe the Australian government.  I never believe what I hear from Australia.  Never believe they have one person who help humanity. 
When Australia says they will take 12,000 Syrian families, please think about the off-shore people because you have Syrians there.  You have one person in Manus and two families in Nauru. It is only a few people who come and ask, 'We need your help. We need safety'.  You will torture the Syrian people and in the media you say you will help 12,000 people or 10,000 families.
Samad:  Yes, it is really unjust.  They are taking people from Syria but Syrian people are here in offshore and they are not accepting them so this is unfair.  I'm so sorry for that.
So you still have contact with your family in Syria?
Obeida:  I have contact with my family but you know, with the situation it is very hard.   But yeah, sometimes I contact with my family.  But just family.  My friends, I lost them.  I don't know where my friends are now.
Samad:  You don't know about your friends?
Obeida: Some of them is dead, and some of them in prison and some of them … I don't know. 
Samad:  So where is your family now?  Are they in Syria or somewhere else?
Obeida:  Still in Syria.
Samad:  Are they safe now?
Obeida:  I can't say yes and I can't say no.
Samad:  We heard about USA throw some kind of weapons, chemical weapons – we don't know.  Did it affect your friends or family.
Obeida: Yeah.   No it is a little bit away from my family.
About love:
Samad: Obeida I have another question.  Do you love someone or something the most in your life?
Obeida: I love freedom. But I don't think we get freedom. This is not freedom [to live] somewhere else in PNG.  It is not freedom to settle in danger. We will not have freedom in Australia or somewhere else.
I loved one girl in Syria so she talked about marrying me and we got engaged.
Samad:   So was it love engaged or someone organised for you?
Obeida:  No.  It was love engaged.
Samad:  So you guys met in Syria?  And then you came here and you got engaged 2014?
Obeida:  Yes, because we were not thinking we live in here long time – like now for 5 years.  We don't know when we will be free.
Samad.  So that is the reason she break up with you? 
Obeida: Yeah.
Samad:  When you broke up with her how was your feelings?   Of course you were in Lombrum then, so how was your feeling?
Obeida: It is hard to explain this feeling.
Samad:  Yes, especially when you were in Lombrum, a terrible place.
Obeida:  Yeah, and you love someone and you cannot see them or touch them for long long time.  And after that you lost them.
Samad:  So how can you describe the pain?
Obeida:  You know that time … I think by then its better for me [to break up] you know, at that time.  Yeah… but after these long years I try to forget.
Samad:  You suffer too much my friend. I am sorry for this.
Music:
Samad:  Do you like any music. What kind of music?
Obeida: Yes I like to listen to English music sometime.  Sometime Arabic. I love to hear the English music more than Arabic.  You know sometimes in the night you like to listen to sad music because of this situation you know.  When you are happy, you will listen to romantic music or something happy.
Samad:  Yes, I can say music is our only friend that we have got here that can give us a little bit of happiness and strength.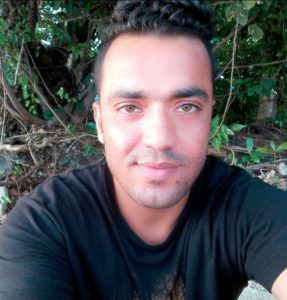 On Friends:
Samad: One more thing I wanted to ask you about Tiger [Tiger was a young stray dog that Obeida adopted].  He was our friend. Especially for you.
Obeida:  Yes, he was my best friend.
Samad:  Yes, he was your best friend. I see in photos you are with him and he with you every time.  Yes, rest in peace our friend, Tiger.   How do you feel about losing this friend?
Obeida:  When I lose him, when I lost my friend I put my heart with him, in the ground with him.  I don't feel myself here.  Because when I walk, always Tiger was with me. When I go somewhere, Tiger was with me. Really he's my best friend.  I lost something from my heart.  You know I think half of my heart is gone.
Samad: Tiger was such a relation.  He was like our friend. The whole compound friend. 
Obeida: Yes he was everyones.
Samad:  Especially he was close with you.  So, you don't feel safe when you go out now.
Obeida:  Yeah, because before you had a friend walking with you.  Like Tiger was my friend. A  friend makes you strong when you are walking with them.  Now I never feel safe.
Samad:  I am sorry it is terrible news.  I hope you find and adopt another dog or something.
Obeida: Especially in this country because you don't feel safe from the security.  You will never feel safe because the security will … attack us, take you to prison or try to kill us, already kill four or five friends, you know.
Chauka prison:
Samad:  I heard you had been taken to Chauka – in 2015 I think.
Obeida:  Yes, I go to Chauka prison and also the Lorengau prison.
Samad:  How many days you were in Chauka?
Obeida:  Maybe for 3 days.  One time 24 hours.
Samad: What was the reason they take you to Chauka?
Obeida:  You know one time they take me to Chauka because I have – you remember we have one sick man was Syria?  He had long time been sick and he had a broken nose from Syria.  He was very very sick and I tried to help him. Security were beating him.  I just tried to protect his body and security arrest me and take me to Chauka.
Samad:  Where is he now?
Obeida:  He's back to Syria.
Samad: He's been deported or ..?
Obeida: No, no, he's gone back because he's so sick and Australia they didn't help him…
Samad:  So he's gone back. How is he?
Obeida:  You know his father is dead from the war. In his city it is so bad. Very very dangerous.
Samad:  So you were trying to protect him when the security were beating him.
Obeida: Yes, so they take me to Chauka
Samad: So can you try to explain the Chauka, what kind of place was that like?
Obeida:   So, Chauka is like a [shipping] container and there you don't have water, you don't have food.
Samad:  So do they give you toilet, no water, no bathroom?
Obeida:  No, they have a bathroom but, you know,  like even if you have a dog they will never use this bathroom, you know.
Samad:  Yeah, I saw some pictures. That toilet's terrible.
Obeida:  Yes, they give you hot water. You can drink only one bottle of water in a day.
Samad:  Only one bottle on a hot day!
Obeida:  Hot day under the sun.   Inside the container, under the sun, oh, you know if you sleep its like you swim in the water because of the sweat, you know.  They give you only little little food.  Not allowed to have fan or air con.
Samad: When you were in Chauka did security guys beat you or give you some problem?
Obeida:  No just talking too bad, you know.
Samad:  So they give you some pain with their words.
Obeida: Yes, by words.  They never beat me but when they are talking bad with you it is like they beat you, you know.  If they beat you it is better than talking with you badly.  You cannot do anything, you are a prisoner.
Samad:  Playing with feelings and trying to give you negative words to make you upset, to make you sad?
Obeida:  Yeah.
Hopes and motivations:
Samad:  What is your hope and motivation that keeps you up and strong?
Obeida:  My family and doing something for them.
Samad:  So its a really good thing because your family keep you up and you are strong and still thinking what you can do.  So I really hope you can do something for your family and that you can be with them in a safe country.  I pray for you.
Samad: What is your dreams or goals when you are released and get to a safe country?  What will be your dreams?
Obeida:  I want to help people.  To help the people who other people torture them, try to help them, the poor people.  This is my dream.
Samad:   It was really nice talking to you Obieda. So what will be the three things you want to do for the world it you could?
Obeida:  The first thing I try to bring peace for Syria. I hope the refugees will not be suffering in the compound and in the centre. I love to see the refugees free.  To see country like Australia help the refugees not torturing the refugees, not put them in prison, but help them.  It's not a compound. We are in a prison.  We don't feel for one minute we are free.  To see the refugees are ok, have a good life. One thing else, I hope that all the world love each other, you know, thinking only about love, not thinking about religion, or the colour, you are black or white.
Samad:  No racism, yeah.
Obeida:  You know this is how they brought us, this is how they bring us here, only thinking about religion.  I hope all the people thinking only for love.  Nothing about the religion or colour.
Samad:   So you want to do three things for the world.  To build peace in Syria, stop the persecution of refugees, like you want to end all the detention centres, people who suffer in detention and the third will be love. You want to make love, no racism, nothing like that, no torture in the name of religion.  That's really inspiring.  Thank you very much for being with me today and it was really inspiring to be with you again.  I am pleased that you are with me and yes we know the situation and how it is. It is a terrible situation. 
I think we have finished now what was in our mind and what was in my mind and I can say you are very positive person and a gentleman and I hope this detention will end soon. We are still hopeful for that because we have to. We have to be positive every time so again thank you very much Obieda. It was very nice.
Obeida: Thank you.
… END …
Samad Abdul and Obeida published in https://theaimn.com/we-dont-feel-for-one-minute-we-are-free/
Mohammad Ali Maleki's chapbook Truth in the Cage, has been released.  Congratulations.
https://verityla.com/product/truth-in-a-cage/
A Poem for Selim 
¿Cómo se deletrea la muerte en este lugar llamado Manus Island?
for Salim Kyawning, killed by Australia's cruel offshore detention policies
1
Si muero hoy en este momento
¿Quién traerá un poema encendido como una vela?
¿Quién traerá un clavel rojo como fue mi corazón?
Y los podrá en la ventana de tus ojos sin lágrimas
No como un signo de dolor
Sino como tributo del silencio e indignación…
Así dirán otro los que pasen por tu lado:
Otro refugiado ha muerto hoy en este país de la vergüenza
Juan Garrido-Salgado ©
24th May 2016
How do you spell death in this place called Manus Island?
for Salim Kyawning, killed by Australia's cruel offshore detention policies
1
If I die today at this moment
Who will bring a poem lit like a candle?
Who will bring a red carnation like my heart was?
And they can in the window of your own eyes without tears
Not as a sign of pain
But as a tribute of silence and indignation…
This is what others who pass by your side will say:
Another refugee has died today in this country of shame
Juan Garrido-Salgado ©