http://scenestr.com.au/arts/queensland-poetry-festival-judith-wright-centre-review-20170903 a link to a review about QPF that includes Writing Through Fences.
WRITING THROUGH FENCES at the Queensland Poetry Festival 2017
We acknowledge that our voices, and some of us, are travelling to Yugerra Yugembul country, having passed through various other countries in this continent and world. We acknowledge your ongoing cultures and languages and offer out respect to all your peoples, Elders past, present and future.
This beautiful art work which will feature throughout our various events is by Mahmoud Salameh.  Thank you again for your constant support and inspiration Mahmoud.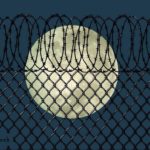 Through The Moon – Saturday 26th August 2017
1pm – 2pm
BEMAC Level 1 102 Main St Kangaroo Point
with Juan Garido Salgado, Hani Abdile, Ahmad Aeinjamshid, Ahlam Moahamed, Ibtisam Ahmed,  Jenell Quinsee, Nick Theodoropoulos,
AND
Farhad Bandesh, Kaveh, Maria, Kazem, Boush, Abdi, Areqou, Lilla, Jajee, Sajjad, Farhad, Rajan, Sri, Moh, Rahman, Sabaa, Milad, A., Iqbal, Ali, Mohammad, Janet
Through the Moon is a weaving of poetry, words, conversations,  song and music from members of Writing Through Fences – including those who are held hostage in off-shore and on-shore prison camps, and in limbo in Indonesia and in community in Australia.  Here we find resistance and the affirmation of life through creation and relationship.
Poetry and Displacement Panel – Saturday 26th August 2017
2:30pm-3:30pm BEMAC
Members of Writing Through Fences will speak a little of poetry and displacement and then invite questions from the audience.

Please be mindful of your questions. We are here to present and speak about our work. We hope you will respect us and limit your questioning to the relevant topics rather than our private lives.
WRITING THROUGH FENCES VIDEO POEMS/SHORT FILMS
11:30am-12:00pm
Judith Wright Centre of Contemporary Art – IMA Screening Room, 420 Brunswick St, Fortitude Valley
AN INVITATION: We hope you watch and listen deeply – as you would with any encounter with any artist or art work – and, importantly, that you listen with a desire to listen openly, not for what you expect but to allow yourself to be absorbed, slashed, challenged by something other than what you expect.
1. Moz from Manus: Rap with video clip: 'All the same' with Artists Against Detention
2. Aziz (check out his collaborative award winning podcast 'The Messenger') with Michael Green and Behind The Wire
'Daily Dreams'written and spoken by Abdul Aziz Muhammat (Manus Island) recorded and produced by Michael Green, Through The Wire.
3.' Who I am' written and performed by Hani Abdile recorded and produced by Christopher Miles
4. 'Writing Through Fences' for ABC by Jane Curtis
5. 11pm , 11 December 2015, Australia's black site on Nauru
'Violence against women is one of the great shames of Australia'
PM Turnbull March 8, 2016 written by Maya (psuedonym) and Janet Galbraith. Production by Hannah Patchett
6. 'We need you', written and spoken by Ibtisam Ahmed, art work by Iqbal. Production: Jane Curtis
'Resisting Silence: Poetry and stories from Australia's political prisoners'. An Empty Chair Sound installation. Sunday 27th August, Judith Wright Centre of Contemporary Art 
From four years on bunk beds in Manus refugee detention prison camp, the streets and detention camps of Indonesia and Malaysia, the prison camps on Nauru, in Brisbane and Melbourne, men, women and children have storied and mapped some of the most intimate impacts of nation building in Australia, nation building that occurs on their bodies.
1. I am 67 years old
Thank you to Farhad Shah who worked closely with a woman from Burma to write down her story as she requested and send to Writing Through Fences. The woman's story is voiced by Janet Galbraith.
2. Lina – Friendship.  Thank you to Michael Green and Through The Wire for recording and production.
3. Imran Mohammed – Four years in a bunk bed. Recorded by Imran Mohammed.  Production by Rose Ertler.
4. Amir Taghinia – Multilingual Negotiations. Recorded by Amir Taghinia. Production by Rose Ertler.
Some of WTF members have been invited to read from Writing to the Wire Sun 27 Aug 5pm Judith Wright Shopfront, free
Hani Abdile has been invited to read at Voices of Colour Multilingual Slam Sunday 27 Aug Judith Wright Centre of Contemporary Art
Janet Galbraith will be reading (via distance) at The Day is Here: Poetry + Spoken Word Sat 26 Aug 4-5pm Judith Wright Screening Room, free
If you were not able to pick up a copy of  I Will Rise or Our Beautiful Voices at the event, you can buy on line at the Shop