You are all invited to the premiere of the music video:
THE BIG EXHALE
by Farhad Bandesh
and an exhibition of his art work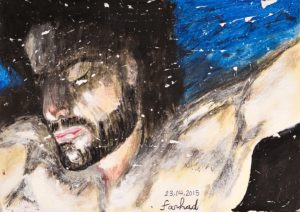 Friday 26 April 2019 @ 6pm
Blak Dot Gallery – 33 Saxon St, Brunswick
ONE NIGHT ONLY
Farhad is a talented Kurdish visual artist, musician and instrument maker who has been imprisoned on Manus Island for nearly 6 years by the Australian government.
This event will be screening the music video alongside an exhibition of Farhad Bandesh's art.  We will be fundraising by selling artwork and t-shirts with Farhad's designs, raffles and donations – with all money raised going directly to the artist.
THE BIG EXHALE is written by Jenell Quinsee and Farhad Bandesh
Choreography by Melbourne City Ballet
Dance by Bilal Zeine
Produced by Wendyhouse Films
Released on Wantok Musik
Event proudly supported by Blak Dot Gallery
Enquiries: info@wantokmusik.org
Acknowledging the collaborations between Farhad Bandesh and Jenell Quinsee and
the tireless work of Jenell Quinsee in making this event possible.
This event is being held on the land of the Wurundjeri people of the Kulin Nation.  We offer our respects.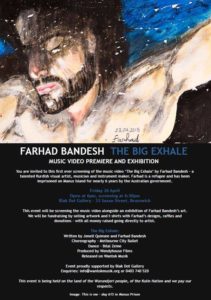 You can see more of Farhad Bandesh's art here: https://www.facebook.com/Farhad-Bandesh-Art-1114421918662106/ and here https://artistsforasylumseekers.org/artists/
You can hear and see and purchase THE BIG EXHALE music video and song here: https://farhadbandeshband.bandcamp.com/?fbclid=IwAR2OmIat4VNC2nrSXmdWGcsq3cnCEEHvL6cTn5Z-0XtRU1CrgjRDnRbfSPs